Auctionify is managed by the Projektify e.V. – Behind Projektify are Dr. Dominic Lindner (31, left in the picture) and Martin Weber (32, right in the picture). After studying business informatics, we are both employed by various IT companies, where we gain a lot of experience, which we also reflect in Projektify. We are very interested in topics related to lean startups, founding and e-commerce. We form the board of the Projektify eV and are an association.
Auctionify is an English Version of the Blog
To provide our tipps also to english speaking people we translated our Blog to English. We also currently develop a software to make your own M&A Business. It is a portal to make auctions. We will provide soon more information about it.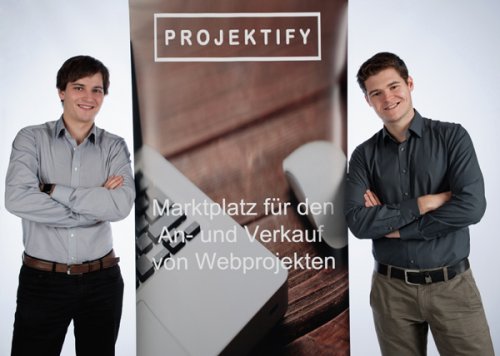 Experience in buying and selling startups
We founded our first startup back in 2013 and successfully sold it in 2015. This is where the idea for Projektify came up. We are still in close contact with the buyer of our first startup and together with their feedback we developed this idea. We would now like to promote this new form of founding, namely to build on the success of past projects. We have some for you in another article Reasons to buy and the Sale of web projects given. Our first startup was a web shop with a 3D configurator for furniture. So this is just one of the many Unique selling points of Projektify .
Dr. Dominic Lindner
Until 2020, I was an external doctoral candidate at FAU Erlangen-Nürnberg at the chair for IT management and am a manager in an IT service provider in Nuremberg. My research interests are in the area of work 4.0, agility and digital leadership. Before that, I completed a master's degree in business informatics in Nuremberg and Sweden and worked as an IT consultant for 2 years. In addition to My Möbelstück, my greatest success was when my master's thesis was awarded the GPM German Study Prize for Project Management in 2016.
Martin Weber
I have been an IT consultant at an IT service provider in Nuremberg / Munich since 2015. My interest lies in the area of software development. Before that, I completed a master's degree in business informatics in Nuremberg and Finland. My biggest success so far has definitely been My Möbelstück.
Foundation of Projektify eV
Of course, Projektify has a lot more supporters than just us. That is why we founded Projektify eV after founding Projektify in October 2015 – 2017. We would like to underpin the fact that Projektify is an affair of the heart.
Projektify is an affair of the heart
Projektify is an affair of the heart for us and we want to give founders the opportunity to realize themselves without any obstacles! We will from numerous partners supports the development of the marketplace. Thus it is possible for us to provide this free of charge. You can us too support . Projektify itself is registered as an association (eV).
A lean startup
The marketplace is implemented strictly according to the rules of the Lean Startup book by Eric Ries and we pay close attention to the implementation of this strategy. That is why we are building the marketplace lean and fast with a lot of feedback from our users. So if you are missing, then give it to us Feedback ! Click here for the book Lean startup from Eric Ries.
Numerous other special features!
We regularly discuss our vision and goals in the meetings of the association. We want to help people to earn money online and provide a free platform for this.