Do you want to start your own business online, but are you looking for the right idea? How you can find them and what you should pay attention to you will find out in this article.
It feels like every second person is self-employed online and earns a lot of money in the process. But appearance is deceptive. Not every idea on the Internet is a guarantee of success and existing potential is usually greatly overestimated. But they do exist, profitable opportunities that open the door to online self-employment.
The first step to the idea
The idea forms the cornerstone if you want to start your own business online. So it is extremely important that you give this enough thought. But for many, this first step is already extremely difficult. And you too are wondering how to develop a business idea out of nothing? Don't worry, it's actually not that difficult.
The easiest way to find an income opportunity on the Internet is to ask yourself the following questions:
– Is there a problem that I can offer a solution to?
– What does the customer want?
– Which customer needs can I meet?
If you can't think of anything to do with this even after careful consideration, the best thing to do is to observe the people around you closely and ask them explicitly. You will be surprised how many everyday problems people would like a solution to.
But it is also important that you decide whether you want to offer a product or a service. Of course, this is primarily related to the customer you want to serve. The benefit that he can derive from your offer is essential for the potential for success of your idea and, of course, your independence.
Ways to come up with an idea
But if you still don't really know how to develop an idea, then you can too Ansoff's product-market matrix to help.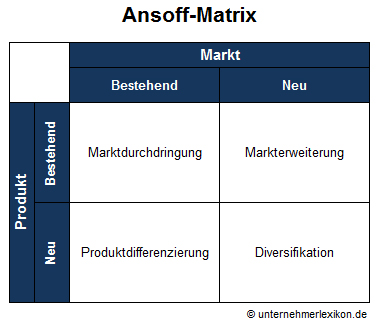 Image q[kkstarratings] Source: https://www.unternehmerlexikon.de/ansoff-matrix/
Ansoff's matrix describes four scenarios that are subject to different compositions with regard to market and product. In the following, we will explain to you, also using an example, how you can use this to develop an idea for self-employment on the Internet.
Market penetration (old market, old product)
Market penetration is simply about selling a product that is already known to you on a market that you already know. This variant of self-employment on the Internet is relatively safe, as there are already other companies in this area. On the other hand, your competition is significantly higher and the chances of making a high profit are comparatively lower.
Example: In our example, let's assume that you want to sell your grandma's apple pie based on a traditional German recipe. So if you offer the apple cake (old product) for sale in Germany (old market), one speaks of market penetration.
Product development (old market, new product)
In product development, on the other hand, attempts are made to gain a foothold in the existing market with the help of a new product. Since you already know the market, you can usually assess whether your idea will be well received and which target group you have to serve.
Example: In product development, you are still selling within Germany (old market), but you are changing the product. For example, you could now offer a vegan version of the apple pie (new product).
Market development (new market, old product)
In market development, an attempt is made to open up a new market using an already known product. To do this, you have to gather enough information about the new potential marketplace and precisely determine your target group there. This is the only way your product can survive there.
Example: If you want to offer the classic apple pie (old product) for sale abroad, for example in Italy (new market), this is called a market development.
Diversification (new market, new product)
Diversification is the riskiest option. You neither know the product nor the market well enough to provide an assessment of the potential for success your idea has. But if you have the right instinct and your business idea becomes a success, the chances of winning are highest here.
Example: If you sell the vegan version of the apple pie (new product) in Italy (new market), one speaks of diversification.
Does my idea have potential for success?
Ultimately, however, no idea in the world will do you any good if it has no potential for success. Even if you yourself have the feeling that with your choice you could easily and easily set yourself up on your own online, you should still check this assumption beforehand. This way you can be sure not to waste your time and energy unnecessarily.
Specify
To do this, you should first concretize your idea. So ask yourself B. important aspects such as the character of your products or services, think about the right target group and consider to what extent you can differentiate yourself from your competition.
Check
In the next step, the test becomes really specific. The point is to find out to what extent the planning from step 1 can be implemented, whether a modification would still have the same success. It is also important whether you have the means at all, e.g. the necessary capital, or whether you first have to obtain permits in order to set up your own business on the Internet in this way.
Protect
In the last part, you should protect your idea if your previous exam gave a satisfactory result. You can do this, for example, by registering a patent or a market if it is an innovation. Or you try to use certain patterns or processes to build up a competitive advantage that is difficult to copy.
Independent in the network with Projektify
When looking for the right idea to get started independently on the Internet, you can also find suggestions on Projektify. For example, you can consider becoming the owner of a web project. On the platform of our association you can find offers to buy one from other entrepreneurs. Projektify is a free platform for buying and selling a wide variety of web projects. Here you can find out more!
Alternatively, you also have the option of reselling an existing web project on our site. Just click for a free listing here .
But if you just want to find out more about earning opportunities on the Internet, then click here .
Did you like this post? Then support Projektify eV and its members with a voluntary donation or simply by clicking on one of the banners of our advertising partners. Many Thanks!
We offer guest articles and sponsored posts
You have your own, interesting thoughts around the theme world of the blog and would like to share them in a
guest article
on my blog? - But gladly! You can thereby address customers and professionals.
Gendernote:
I have used the masculine form for ease of reading. Therefore, unless an explicit distinction is made, it always refers to women, diverse as well as men, and people of all origins and nations.
Read more
Spelling: I translated my German Blog to English - so you can also read my Recommendations. Please be sorry if this English is not so good.

Image-Source Titlepicture: Fotolia.de 2016 –
buyed License