The number of people who decide to earn something with an online shop or even start their own business is increasing every day. But is this step worth it? How much income can you actually achieve with an online shop?
Is an online shop still worthwhile?
This is probably the most frequently asked question when it comes to running your own online shop. Given the right conditions and the right work ethic, this question can definitely be answered with a YES. The number of online purchases is still increasing year after year. The following graphic shows you how high the average monthly order volume from online shops is according to a study we recently carried out.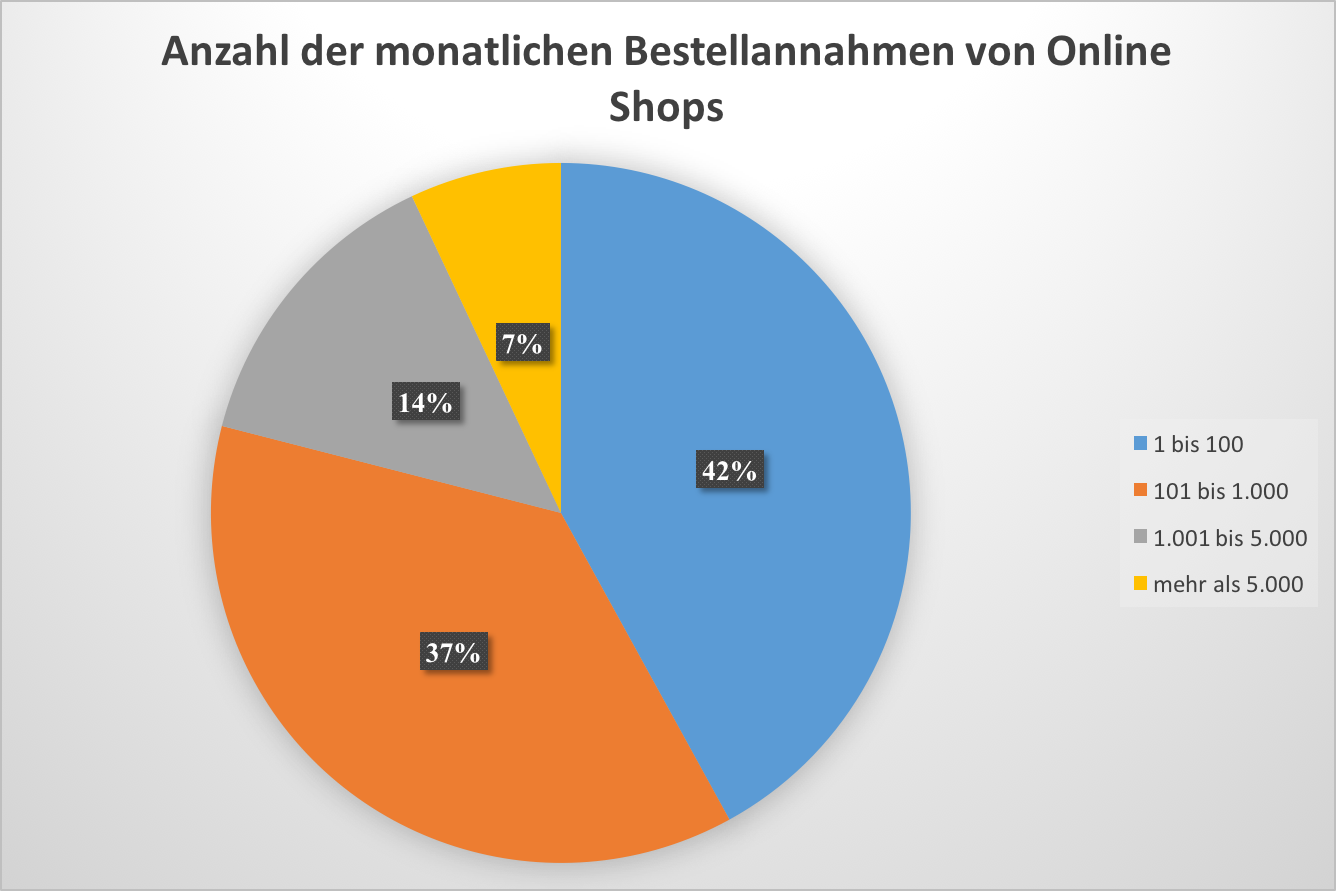 As you can see, almost 80 percent of our respondents have a rate between 1 and 1000 orders per month. A full 7 percent can even generate monthly quantities of more than 5000 orders.
Nevertheless, you should make it clear to yourself that an online shop means an enormous amount of time and work and that success is usually a long time coming. Many young entrepreneurs see the potential in this make money online with a webshop , so your competition is correspondingly high.
You should also keep in mind that an online shop does not mean a regular income and not everyone is made for self-employment. It is therefore important that you make it clear to yourself whether you are up to the pressure and effort and how much income you would like to generate in order to enable you to live a carefree life.
How much can you actually earn with an online shop?
How much you can earn with an online shop, of course, depends, as so often, on many factors. For example, the products, the operating costs, the number of orders and so on. In order not to fob you off with this general statement, we want to show you an example of what is financially possible with your own online shop.
Example:
Let's say you offer 2 different products in your shop, product A and product B. You sell product A at a price of 40 euros and product B costs your customers 50 euros each. Since both have the same variable unit costs of 30 euros per product each, the result for product A in our example is a unit contribution margin of 10 euros and for product B of 20 euros. If you can sell product A 150 times a month and product B 100 times a month, you will earn a total of 3500 euros a month (150×10 euros = 1500 euros, 100×20 euros = 2000 euros, 1500 + 2000 = 3500 euros).
You now have to deduct monthly expenses such as advertising, insurance, shipping costs, storage costs, etc. from this result. If we assume around 1000 euros per month, you have 2000 euros to live on. Not a bad salary at first sight.
But let's count down how much time you have to invest. With a normal job, you work around 20 days a month for 8 hours a day, which results in a total monthly working time of 160 hours. 2000 euros divided by 160 hours results in an hourly wage of 12.50 euros. This also includes vacation and the proportional costs that your employer bears for you, e.g. B. health insurance. If you have an online shop, you are your own employer, you usually work on weekends and you don't get paid vacation. We don't even want to think about sick days. You see, with all these parameters, the hourly wage keeps falling.
Conclusion
Using our graphic above, you can also see that people are still busy ordering online and the growing number of online shops also shows that many seem to earn enough to live on, even if a lot of commitment and passion are required here.
If you are brand new in this area, it is sometimes worthwhile first Affiliate marketing to start selling products. When you finally have some experience online, you can get started in a much more relaxed manner and with fewer beginner errors. You will certainly know better which niches are currently worthwhile and which type of online shop currently has the greatest potential. If you know more about Affiliate marketing and Niche sites want to learn, then read our other articles on these topics.
Your own online shop with Projektify
Are you motivated and want to finally get started? If you can't wait to own an online shop yourself, then Projektify is the right address for you. Our free platform specializes in buying and selling web projects of all kinds. As advisory experts, we are of course happy to assist you with the purchase of your own online shop. Take a look at our advertisements . There is sure to be the right offer for you.
If, on the contrary, you want to sell your web project, then you can use our platform to create an advertisement without obligation and free of charge. For more information, just click here .
---
Did you like this post? Then support Projektify eV and its members with a voluntary donation or simply by one Click on one of the banners of our advertising partners. Many Thanks!
We offer guest articles and sponsored posts
You have your own, interesting thoughts around the theme world of the blog and would like to share them in a
guest article
on my blog? - But gladly! You can thereby address customers and professionals.
Gendernote:
I have used the masculine form for ease of reading. Therefore, unless an explicit distinction is made, it always refers to women, diverse as well as men, and people of all origins and nations.
Read more
Spelling: I translated my German Blog to English - so you can also read my Recommendations. Please be sorry if this English is not so good.

Image-Source Titlepicture: Fotolia.de 2016 –
buyed License